South Asian Muslim Association of Australia Inc. (SAMAA)
On popular demand presents
The renowned Tahir Faridi Qawwal
Of the World renowed group The Fanna-Fi-Allah
They will perform the famous Qawaalis of past few decades
to entertain the South Asian Community
with the unique experience rarely seen in Australia
(DINNER Included)
Programme: Guest Arrival 4:30pm. Qawwali starts at 5pm in the Theatre and first half concludes at 7pm. The next half will commence at 7:30pm and conclude around 9pm.
The Fanna-Fi-Allah group has become a leading representation of Sufi Qawwali music in many Western countries. With their rich rhythmic grooves, soaring vocal melodies and the bright intensity of their live performances, Fanna-Fi-Allah urges us to lift our hearts in exaltation and devotion to the Divine. Fanna-Fi-Allah embodies an authentic continuation of the ancient tradition of Sufi music. Tahir Faridi and other Key members of the group have spent over 20 years in Pakistan and India. Tahir has enthralled audiences in the USA, Pakistan, Europe, Indonesia, India, Egypt, Australia, and others, with his dynamic skill, and passionate musical precision. With ten albums already published, he has now given us an even greater glimpse into this Sufi world of Pakistan with the production of the new documentary:Music of the Mystics.

SAMAA, established in 2007, aims to provide benevolent services to the Muslim elderly of South Asian origin, negotiate their placement for the provision of adequate care with existing aged care providers and build its own aged care facilities in long term. Full details can be found at www.samaa.org.au.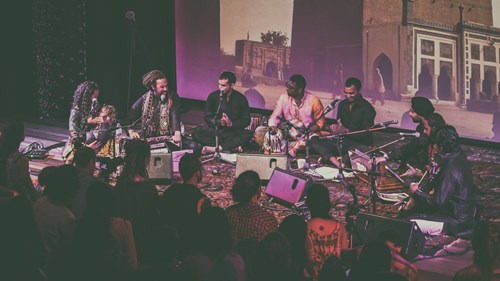 Aaj Rang Hai - The iconic qawwali written by Hazrat Amir Khusro (ra) for his master Khwaja Nizamudin Aulia (ra)